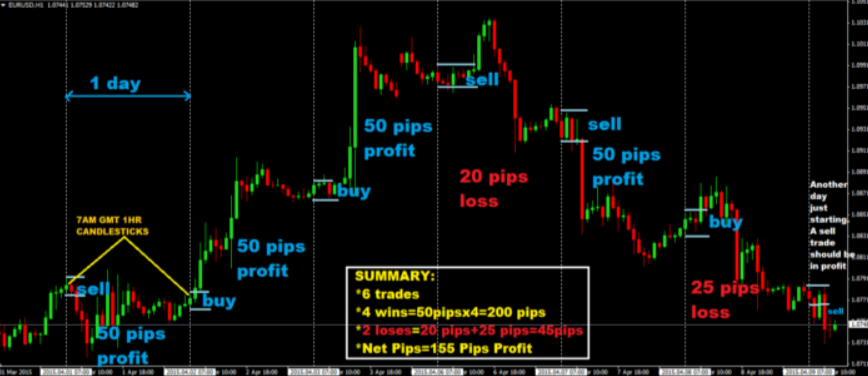 Photo Credit: Forex Trading Strategies 4 U
What is a 50 pips a day Forex strategy?
The 50 pips a day Forex strategy is an overall strategy that works in single hour intervals and aims at taking advantage of about 50% of a currency pairs' daily movement. This type of strategy also aims at working with a select few currency pairs. These pairs include GBP/USD and EUR/USD.
You can use other currency pairs, but to take advantage of this strategy, as it does not require analyzing indicators like some other strategies, you need to ensure that whatever pair chosen has a daily range of 100 pips or more.
The 50 pips a day Forex strategy is very simple in design and is considered a day trading strategy. Like many other day trading strategies, it is defined by its simplicity and that allows the strategy to become fairly robust and easy to execute by beginner Forex investors and traders. 
Not only is this technique designed for day traders, it is also able to work for swing traders based on the execution style. If you are a swing trader, you will want to be extra careful in analyzing your candlesticks to be sure you can make proper financial gains.
How do you execute this strategy?
Executing a 50 pips a day Forex strategy takes a few brief steps as there is a bit less to check over as far as a trading strategy goes.
The first note is that you should set a 1 hour candlestick on your chart to 7AM GMT. This timezone tends to work the best for this strategy to take advantage of daily spreads.
Once you have your account set up to the above timezone, there are four main rules to follow as this strategy is mostly one manually unless you can find a specialised algorithm to run on your chosen software.
Once the 7am 1HR GMT candlestick closes you will want to place two opposite pending orders. These are a buy stop order 2 pips above the high and a sell stop order 2 pips below the low.

As soon as one of the orders is activated, you need to cancel the other order.

For a stop loss, it is best to place about 5-10 pips below the low at 7am GMT for a buy order, and 5-10 pips above the high at 7am GMT for a sell order.

There should then be a take profit of 50 pips
Once the above four steps are followed, you can leave it alone and let the market do as it will for the day. After your trade plays out, repeat the above four steps again the next day.
Is this strategy profitable?
This strategy is profitable if done correctly and a smart approach is taken. In the long run, if you do not want to do this manually every day, you may want to invest in an algorithm that runs on a different strategy, but the 50 pips a day forex strategy can turn a profit.
There is a certain level of "set and forget" with this strategy.

After the initial daily set up, nothing else needs to be done until the next day.

You will not be able to over-trade with this strategy.

Because only two pairs are used, there would only be a max of two trades a day if you opt to use both.
If you like more daily trades, this is not for you.

While low trades are a benefit for some, if you are a trader that would like to trade a variety of pairs with a variety of movements, this strategy is not a good fit.

There is a limit on profit with this strategy.

Your profit will only ever max out at 50 pips a day

, which is better than nothing, but other strategies can get a greater amount of pips in movement and could reap a greater overall profit for your Forex portfolio.